Name: Shayra Banta
Class Year: 2019
Major: Psychology and International Studies
Hometown: Mumbai, India
Internship Placement: Energy Vision
Job Title: Summer Associate
Location: New York City
What's happening at your internship?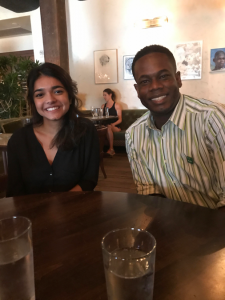 There are constantly different projects and assignments being tackled at a given time in the office. The previous week, Energy Vision was hosting a "Power of Waste" workshop for 100-plus people and we were all preoccupied with the agenda for that. It took place on the 6th of June and was a day filled with panel discussions from leaders in the field, and interacting with various interested government, private and nonprofit institutions. Since then, I have been focused on research regarding their upcoming comparative report on the alternative fuels available to end the diesel era. For this research, I have been searching the internet, doing conference calls with various project consultants across the U.S. and sending emails to affiliated companies trying to source as much information as I can. We are supposed to reconvene early next week to figure out the next few steps in the process.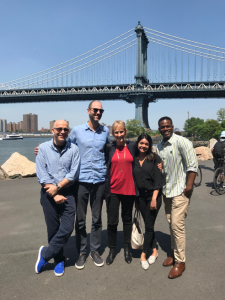 Why did you apply for this internship?
During my semester abroad in Milan I had taken a sustainability class that caught my attention. I have always been interested in energy but never had prior exposure or sufficient knowledge in the area. Energy Vision seemed like the perfect amalgamation of collaboration on comparative analysis reports and autonomy in exploring your ideas regarding the next change you want to see. It is a think tank based in New York and it involves influencing decision makers to advance sustainable energy and transportation solutions through targeted research, education, outreach and engagement. Its mission and operational style tied back to my International Studies major and seemed like an interesting path for me to explore.
Living in a new city? What has that experience been like for you?
I have always loved exploring a new city. It was a big factor in coming for college to Bryn Mawr from Mumbai, and then deciding on studying abroad in Milan my junior fall. New York has been fairly easy to navigate and being so cosmopolitan I always have family and friends around.
As many times as I had visited, living here is a totally different experience. I had heard of how fast, evolving, and dynamic the city was — but that's how I like to think of myself. I enjoy having established my routine coffee shop around the corner from work, and knowing how to navigate the initially daunting Trader Joe's aisles every Sunday while getting the week's supplies. It is slowly but steadily starting to feel familiar and I'm really excited to get to call another place home.
What are three adjectives and three nouns that describe your internship experience?
Adjectives — curious, insightful, appreciated
Nouns — team, understanding, support