Name: Leah Baer
Class Year: 2019
Major: History
Hometown: Millburn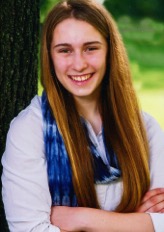 Internship Placement: Harpers Ferry National Historical Park
Job Title: Living History and Historic Trades Intern
Location: Harpers Ferry, W.Va.
What's happening at your internship? We would love to hear what kind of work you are doing!
I am working as a Living History and Historic Trades intern at Harpers Ferry National Historical Park in Harpers Ferry, West Virginia. I spend approximately 95 percent of my time in period piece clothing either conducting a program or staffing one of the exhibits within the park. The program I am giving this summer is called the Road to Resistance. It outlines the struggles African Americans faced when traveling to Harpers Ferry during the Jim Crow era. I will also spend time researching John Brown's Raid, the industrial history of Harpers Ferry, the Civil War, and the African American experience here. Throughout the summer, our division hosts events that delve into different aspects of 19th century Harpers Ferry. Some of the topics include the evolution of gun manufacturing, baking, artillery, civil war medicine, and Sheridan's Valley Campaign of 1864. I will also be getting black powder certified so I can fire historic weapons on park property.
Why did you apply for this internship?
I wanted the opportunity to work for a historical park that encapsulates multiple aspects of 19th and 20th century American society. Harpers Ferry interprets phenomena that occurred during the Antebellum Period, such as interchangeable parts, along with the change in the social discourse of the nation as it transitioned from Civil War to Civil Rights. Harpers Ferry is also surrounded by beautiful hiking trails such as Maryland Heights, Loudon Heights, the Appalachian Trail, and Jefferson Rock.
What has been your favorite part of this internship?
My favorite part of this internship is the research I am conducting about the students who traveled to Harpers Ferry to attend Storer College. Storer College was a historically black college that existed from 1865 to 1955. Currently, I am conducting preliminary research by contacting local museums, historical societies and Shepherd University to obtain records, testimonials, and photographs of the thousands of the students who attended the school.
Can you talk about the skills you are learning and why they are important to you?
While interning at Harpers Ferry, I am broadening my informal interpretation skills. When a visitor walks into an exhibit, I have to quickly assess what they are interested in learning about and whether they intend to spend a substantial amount of time browsing through the artifacts displayed. I also have to make sure the audience comprehends what I am saying and is able to see the relevancy of the park in modern society. This skill is important if I decide to pursue a career in the National Park Service.