Name: Shannan Stafford
Class Year: 2019
Major: Political Science, Psychology; Minor: Education
Internship Placement: The Franklin Institute
Job Title: Museum Programs & Outreach Initiatives Intern/Science Education Intern
Location: Philadelphia
Hey y'all! It's almost the end of the summer and I am happy to report that I have learned that working with museum programming is way more fun than I thought it would be. This summer I have been interning at The Franklin Institute, a science museum focused on inspiring people of all ages to learn more about science and technology. My main goal for this internship was to learn more about how STEM can be made more accessible for elementary and middle school kids and what that could look like in both formal and informal learning. I also wanted to learn more about the types of programs and events museums can offer that utilize their vast resources for underserved communities and what that process looks like from behind the scenes. To do this, I have been helping the professional development department plan and execute their various museum programming including Community Night, Science After Hours, Leap Into Science, and their various Professional Development courses for educators.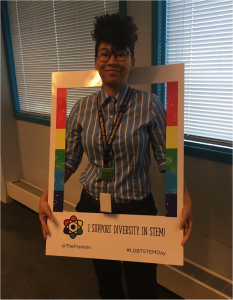 The Franklin was a great place to explore the uses of my major in Psychology and my minor in Education because many of the professional development courses as well as the curriculum development is centered around the science of learning and helping educators understand research on the brain in order to aid in teaching. This has allowed me to gain more hands-on experiences with the content that I have learned in my psychology courses, such as Human Cognition and the multitude of courses I have taken focusing on developmental psychology.
Surprisingly, the most applicable courses to my internship have been the education courses, such as Multicultural Education and Advocating Diversity in Higher Education, which allowed me to practice creative problem-solving and learn ways to make learning or teaching engaging and relevant. As a space that hosts people from a wide range of educational backgrounds, it was really cool to see how my coursework for my major could be applied to a job that I thought would require a lot more specific training.
While the job is awesome in its own right, the perks are just as great! Interning at The Franklin has also allowed me to visit all of the various museums Philadelphia has to offer all for free and participate in science events within the city. It has also created opportunities to network with people from a wide range of professions within the museum and discover what other careers the world has to offer. Being in this space has really helped make Philly feel more like a home and has truly opened my eyes to a whole new world of possibilities. This summer has made me infinitely more hopeful about the future, and I can't wait to see what's next!