Name: Margaret Gorman
Class Year: 2019
Major: Classics and Political Science
Hometown: Arlington, Va.
Internship Placement: D.C. Office of Congressman Lou Correa
Job Title: Intern
Location: Washington, D.C.
What's happening at your internship?
Congressman Correa represents the 46th district of California. The 46th district includes parts of Anaheim and Orange County — it's also where Disneyland is! Congressman Correa is a freshman and a Democrat, passionate about veterans' issues and immigration reform. Recently, he has been speaking out against the Trump Administration's immigration policies, organizing two special orders on the House Floor to oppose the separation of children from their families. My duties at the office include communicating with constituents, attending hearings and briefings, and giving tours of the U.S. Capitol.
When the House is in session, every day is fast-paced, with lots of tasks to complete and lots of opportunities to attend different events. I really loved getting to watch a vote from the House Gallery — the room is filled with so much energy when all of the Congresspeople are on the floor, talking to one another and casting their votes. When the House is not in session, it's very quiet at the office, and the other interns and I mostly work on scheduling and giving tours for constituents.
Why did you apply for this internship?
I am considering a career in government, so I wanted to gain a better understanding of how our government works and what jobs on Capitol Hill are like. As a political science major, I was also interested in seeing the practical applications of the concepts and theories that I have studied for the past few years.
How did you hear about this internship?
Because I knew that I wanted to intern in a congressional office, I met with a coworker of my mom's who used to work for a Senator. She gave me some great information about what congressional internships are like, and also introduced me to Laurie Saroff, a BMC alum and Representative Correa's Chief of Staff!
What has been your favorite part of this internship?
In any given week, I will be asked by staff in the office to attend a number of hearings or briefings and write memos about them. They can be things that I'm really interested in, like an informational briefing on gun safety legislation or a press conference of the pro-choice caucus, or they can be things that I've never thought about before, like a briefing on Temporary Protected Status for Yemen and Somalia or a hearing about cell site simulator threats. I love learning about an issue that I've never even thought about before and then condensing the most important information about it into a small piece of writing. It's a great writing exercise, and I come out of it really understanding something new. It's also a great way to understand what is being done at the Congressional level around all of these issues — what legislation has been proposed, and what organizations support it for what reasons.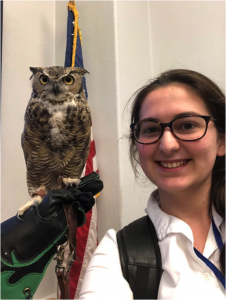 Just this past week, I was able to attend a briefing held by the National Audubon Society, where I got to take this amazing selfie with a great horned owl named Oden. I also learned about the effects that climate change is having on birds in National Parks!