Name: Noelle Stockwell
Class Year: 2020
Internship Placement: Running Start
Location: Washington, D.C.
This summer I am in Washington D.C. working at a nonprofit, nonpartisan organization called Running Start whose main goal is to get more women to run for elected office. Their work is focused on holding political leadership training for young women in high school and college. So far, much of my work at Running Start has been to prepare for the Young Women's Political Leadership Program (YWPL). Seventy high school girls from all different backgrounds came to D.C. for the week, and it was so amazing to be a part of their time here.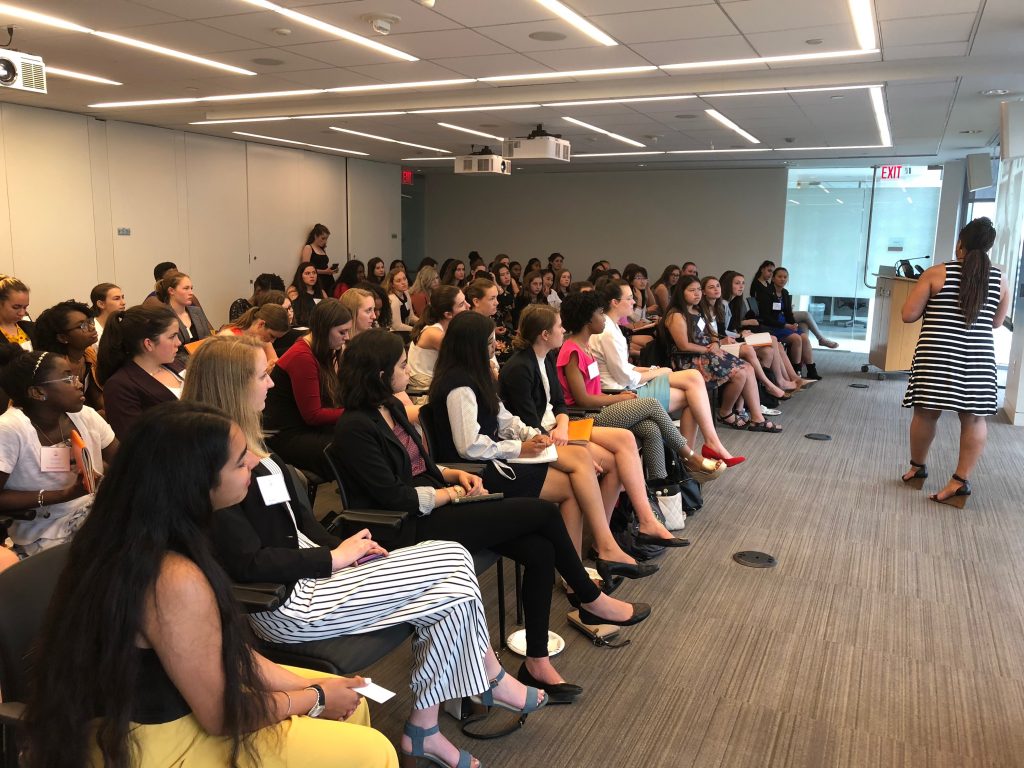 As part of YWPL, the participants get to spend a day on Capitol Hill and were able to meet with their representative or a member of their staff, and this was hands down my favorite day of the week. It has been my responsibility for the past month to schedule these meetings and organize their groups. Never would I have anticipated being in contact with Congressional offices. Our communication was mostly via email, but sometimes a phone call was necessary. I have never, never, liked talking on the phone, and if I can, I always find a way out of it. I surprised myself by rising to the responsibility and scheduling 60-plus meetings with these high-ranking political figures. It felt rewarding to see all of my hard work paying off, and to hear how excited all the young girls were about their meetings. I had my own group and throughout the course of the day, I got to meet Elizabeth Warren, Nancy Pelosi, and Joe Kennedy III. Not only was it a great experience for me, but I loved seeing how excited my own group was and how confident they were having conversations with members of Congress. It made me excited to see what these high schoolers would do in the future, because I'm sure it will be something amazing.
I look forward to what the rest of the summer will bring now that we are done with YWPL. I know we will launch a large-scale research project in which we will attempt to survey every female state legislator, who number upwards of 1,800. I look forward to hearing what advice they all have for the young women who want to follow in their footsteps.
I look forward to going into work every morning. There's a large group of 20 interns working in the office in addition to a small full-time staff; I appreciate how much attention is given to all of us. The organization will bring in speakers for us to have lunch with. We've already met with the former Executive Producer of "Meet the Press," Betsy Fischer. We got to participate throughout YWPL, and network, which was a new experience for me. The atmosphere reminds me of Bryn Mawr in a way because I'm part of a strong community of women who are supporting each other and trying to make a difference. I feel like I have learned so much already, and I look forward to seeing how much more I will grow by the end of the summer.