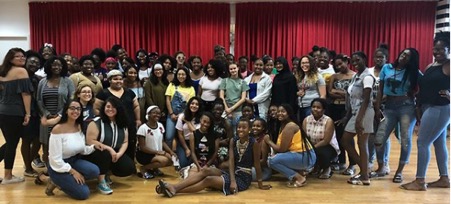 This diverse group of young, powerful women and trans/gender non-conforming folks have provided so much for me this summer. Entering Sadie Nash Leadership Project, I was not sure what to expect. This is the first time that Sadie Nash uses an intern at the Newark, N.J., site, so I was nervous of being seen as small or an unimportant part of the team or even trying to fit in. Let me tell you, that is DEFINITELY NOT the case! Sadie Nash reminds me of my small Bryn Mawr community. We cover pronouns, diversity, empowerment, etc. I wonder where I've heard that before?
The staff have been nothing but wonderful to me. Often times, they thank me and make me feel like one of the most valuable parts of our day-to-day operations. Whether it's fixing the printer, creating spreadsheets, scanning documents or posting flyers of our events, the staff makes me feel like my work is the best product it can be, because I have worked hard to create these products.
Now, besides all the boring stuff, I have gotten the opportunity to connect with Nashers in a very beautiful way. Most of the time, they have been helping me! Hyping up my style and hair-dos, my creativity, and most commonly, my eyebrows, these Nashers make me feel so confident in myself. One Nasher continuously checks in with me throughout the day, once telling me they "hope to grow up and be like me" (although they are only a couple years younger than me). This Nasher is also a Nasher that I gave the tour to, that helped me learn about this internship, so we go a bit back. Additionally, the deans are so loving and caring. I've actually been able to think of them as my friends, rather than just my coworkers.
This place is beautiful and I'm beginning to really fall in love with it.