Name: Connie Chan
Class Year: 2019
Major: Chemistry concentration, Biochemistry, minor in Computer Science
Hometown: Somerville, Mass.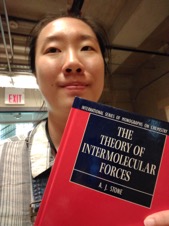 Internship Placement: Haverford College
Job Title: Postbac Research Assistant
What's happening at your internship? 
I am currently diving into a lot of computational tools. There are a lot of quantum chemistry points of view that I am trying to understand because combining physics with chemistry is honestly mind blowing. Add biology and computer science to the mix and you really have yourself a summer full of learning. I am trying to use quantum chemistry to characterize hydrogen bonding in hopes to find a new characterization method that is currently not considered with protein modeling.
Why did you apply for this internship?
I was really interested in learning more about material science after taking a course with the PI that I am currently with. In particular, I am interested in learning more about biomaterials. Rather than being someone who is interacting with patients and seeing to their care firsthand, I enjoy being someone who is capable of improving someone's health from behind the scenes. I am still trying to understand a balance between what I want to do in the future and what I truly enjoy because it is hard to adult at times.
What has been the biggest challenge you have faced at your internship?
The code and knowledge blocks, but this is all part of the process. While it can really be hard to overcome blocks and move on, when you finally succeed and understand what is going on, you realize how far you truly have come. It's always hard to put yourself first and truly understand yourself at times when you are faced with a lot of work and challenges, so I hope to also stay true to myself and be happy with what I am doing.
What are three adjectives and three nouns that describe your internship experience?
Adjectives: challenging, rewarding, interdisciplinary
Nouns: quantum chemistry, computer science, protein stability