Name: Cara Navarro
Class Year: 2020
Major: Growth and Structure of Cities
Hometown: Manila, Philippines
Internship Placement: Welcoming Center for New Pennsylvanians
Job Title: Immigrant Leadership Outreach Specialist
Location: Philadelphia
What's happening at your internship?
I'm interning at the Welcoming Center for New Pennsylvanians, a nonprofit that helps immigrants integrate economically and socially into the Philadelphia area. Specifically, I am working with the Immigrant Leadership Institute (ILI): a five-month program that trains immigrants to become civic leaders within their communities. Participants learn about common barriers to integration that immigrants face, and then work in teams to plan events that address these barriers. Along the way, they learn skills that are useful in any context, such as leadership skills, relationship building, effective communication, and fundraising. The program also helps participants improve their English skills and become more familiar with American culture.
My responsibilities have been far more varied than my job title suggests. While I have worked on outreach-related tasks, such as redesigning the program brochure and online registration page, I also provide general support for Institute participants. In particular, I design a lot of event flyers and agendas. 
Why did you apply for this internship?
During my time at Bryn Mawr, I've become very interested in the dynamics of urban immigrant communities and their role within the city. I knew interning at the Welcoming Center would be a great way to learn more about this in relation to Philadelphia. I also admire the Immigrant Leadership Institute as a program — for one, it elevates immigrants' voices, which often go unheard in decision-making processes. It's also an innovative model for immigrant integration. When I learned about the program, I wanted to support it in any way that I could.
What has been your favorite part of this internship?
Definitely working with the Immigrant Leadership Institute participants! They are incredibly intelligent, creative, and friendly people, and I've enjoyed getting to know them. The events they've organized as part of the program have also been a huge plus. In my Cities courses, I've read about the barriers that immigrants face, and hearing personal stories from the event organizers and guests has added a new dimension to my understanding of these issues. Moreover, I've met people who do important work for immigrants in Philadelphia.
Living in a new city? What has that experience been like for you?
I spend most weekends in Philly during the school year, but this is my first time living in the city on my own. I've definitely had my fair share of challenges; I'm still trying to strike the right balance between work, social life, general adult responsibilities, and sleep. But overall, I'm really enjoying the experience! I've explored different parts of the city, eaten an excessive amount of brunch food, and met some really cool people.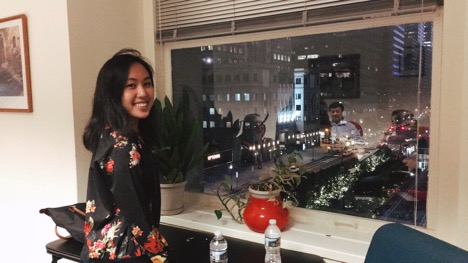 I've had to work late fairly often, but the program participants and the view from the conference room make it worth it.