Name: Amelia Marren
Class Year: 2019
Major: Growth and Structure of Cities
Hometown: Murfreesboro, Tenn.
Internship Placement: School District of Philadelphia: Office of Environmental Management and Services
Job Title: GreenFutures Intern
Location: Philadelphia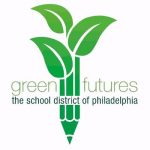 This summer I took the opportunity for self-exploration. With a year left at Bryn Mawr, it's crucial to take every opportunity to find my career path. This summer at the School District of Philadelphia I got to pursue my passions in a different facet that I have never explored before. Last summer, this passion was formed while performing environmental stewardship in Philadelphia parks. I fell in love with the field and Philadelphia, but this summer I wanted to try something a little less dirty, quite literally. That's why I took the job as a GreenFutures Intern at the School District of Philadelphia.
GreenFutures is the School District's five-year sustainability plan under five areas of focus: Education for Sustainability, Consumption and Waste, Energy and Efficiencies, School Greenscapes, and Healthy Schools, Healthy Living. It was the office job that I was always looking for, because I got to delve into my passion for urban environmentalism while focusing my efforts on the most impressionable age group in Philadelphia. The effects of the GreenFutures plan expand way beyond the School District of Philadelphia and its students; it sets a precedent throughout Philadelphia and the world. Moreover, my experience with GreenFutures has placed an everlasting impressive influence on me and my future.
Working at the School District this summer gave me the freedom to explore my interests. My supervisor gave me reign to do the things I wanted to do. My main task throughout the summer was mapping school greenscapes. Greenscapes are pieces of green infrastructure that serve an educational purpose, whether it be education for sustainability or a math lesson. It was thrilling getting back to using GIS, but the most rewarding part was figuring out how to make my efforts benefit all. I made an interface that would be most advantageous to display information to the public and most conducive for others to work on the map after me. I also got to engage in stimulating work by doing blog posts, contributing to the GreenFutures Progress Report, and assisting in promotion of upcoming events for GreenFutures.
Though the desk work was insightful, I really enjoyed when I got to leave my cubicle and sit in on meetings or go to events. Children really are the future, and the School District must be engaged in most of the city's sustainability efforts because that is the city's future. Through those meetings, I got to learn about valuable sustainability efforts throughout Philadelphia. Furthermore, I was able to network with an array people employed by various City of Philadelphia departments, Pennsylvania Horticultural Society, Keep Philadelphia Beautiful, the EPA, Penn State, Fairmount Water Works, and more. Some of the most fun I had was going on little "field trips." On my first day, I got to meet the whole Eagles team at playground build at Hackett Elementary. Later, I went to the Philadelphia Museum of Art to preview a professional development event that will be held there on Education for Sustainability and Climate Change. Lastly, I took the opportunity to work with the Pennsylvania Horticultural Society for their Green City Teachers program. In this program I got to build a school garden from scratch, but most importantly I learned a garden's importance in a school setting, and that has encouraged me to write my senior thesis about that topic.
By the end of the summer, I had some really valuable experiences. I got to network throughout Philadelphia, learn so much, improve my technical skills, and find a thesis topic. All around it was an A+ summer at the School District, and for my time in my life, it was exactly what I needed. I have seen many sides of environmentalism in Philadelphia, and it makes me excited to see where my life will go and where I can apply the valuable knowledge I learned this summer.