Name: Arya Cheng
Class Year: 2019
Major: Anthropology and French
Hometown: Hong Kong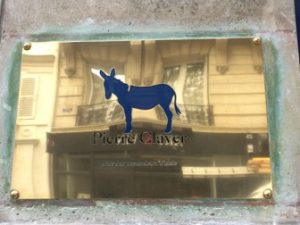 Internship Placement: L'Association Pierre Claver
Job Title: Intern
Location: Paris, France
What's happening at your internship? 
Pierre Claver is a school dedicated to helping the integration of refugees into French society by providing knowledge, resources, support, and friendship. My role as an intern is to provide administrative and classroom support to the organization. More specifically, I have been heavily involved with the organization of the 10-year anniversary event in July. For this momentous occasion, nine former and current refugee students will be performing a classic French play, Britannicus by Jean Racine, on the stage of a prestigious Parisian theater. Over the last month, we have been working intensely on planning and promoting Britannicus. I am specifically in charge of invitations, which has required me to communicate profusely with others in French via email and face-to-face. In the process, I have learned a lot about the implied and hierarchal rules of writing formal emails in French!
Apart from working in the office, I get the amazing chance to participate in the association's daily courses and special outings, and also eat a delicious Afghan lunch at the newly opened restaurant. So far, I have joined the chorale, the poetry course, the alphabetization French course, and the B2 French language course.
Why did you apply for this internship?
From studying abroad in Paris for a semester and reading the news, I have learned a lot about the hostile and conservative reactions of European countries toward the mass arrival of refugees. I felt completely heartbroken and powerless. … What can I do as merely a student? As a result, I was determined to find an internship in the summer where I could work at an organization that helped refugees. I want to see how I could contribute. Amongst all the other organizations, Pierre Claver seemed the most grounded because it adopts a personalized and holistic approach in helping refugees build a new life in France. The director of Pierre Claver mentioned once, "if one wants to have a future in France, they must also know its history". This quote essentially summarizes the essence of Pierre Claver's mission, which is to educate refugees about France, not just its language, but also its culture, history, music, and art. Although Pierre Claver functions primarily as a school for refugees, it is first and foremost a community that cultivates a space for encounters between the French and the refugees. Thus, I hope that interning at Pierre Claver will teach me how to help refugees, and what it takes to build a resilient sustainable community that values respect, mutual aid and diversity.
What has been your favorite part of this internship?
It has been absolutely amazing to get to be part of the amazing Pierre Claver community and form genuine friendships with the people. The staff, the professors, and the refugee students are all extremely kind and open. As an outsider, they have accepted me into their community with open arms. Throughout my day, I hear so many different languages, emblematic of the cultural and linguistic diversity of the community that Pierre Claver has created. I hear every day Arabic, French, English, Hindi, Bengali, Pashto, Dari, and Tibetan. I try to learn something of each language, but unfortunately it is hard to keep it in my head. The highlight of my internship so far is definitely being able to help students in the alphabetization course. Although my French is far from fluent and perfect, it feels so good to be able to contribute and help enthusiastic students who are motivated to master the language. In fact, I am constantly inspired and invigorated by the students' willingness to learn and embrace difference. In the alphabetization, the professor, the students, and I engaged in an interactive discussion, where each of us introduced the languages we spoke, and in turn, each taught the class how to say simple greetings. Although my brain struggled to retain the association between meaning and the beautiful sounding foreign words in Dari, Pashto, and Arabic, it was for me a symbolic moment that captured how one idea or meaning are expressed in so many different ways around the world, and that not one is more just or correct than another. I am extremely lucky to be able to learn from and be part of the flourishing, diverse, and multilingual community that is Pierre Claver. 
What is something you have learned from your internship that you didn't expect?
My initial impression of the internship at Pierre Claver is that as an intern I will have a list of tasks to complete and a strict schedule to follow every day. However, I was just given tasks to complete, without strict guidelines on how I should achieve them. At Bryn Mawr and throughout my life in school, my work was monitored by the comments and advice of my professors. In this work setting, I felt very insecure doing even the simplest of tasks because I did not receive expert opinion and reassurance on each step of my work. The newfound freedom and responsibility were daunting, but in the process the working experience has made me more self-assured, self-disciplined, and comfortable with taking initiative.