Name: Aubrey Donisch
Class Year: 2020
Major: Dance and Sociology
Hometown: Minneapolis, Minn.
Internship Placement: Keshet Dance and Center for the Arts
Job Title: Summer Intern and Assistant Teacher
Location: Albuquerque, N.M.
Hello hello from the hot, high desert!
It's been a great five weeks so far at Keshet (a seemingly popular name for many internship opportunities for BMC students this summer!)—a non-profit center for dance and the arts. Keshet works with the Albuquerque community in several different ways: As a professional company, they employ professional dance artists for performance opportunities, as a studio they work with all ages and abilities, and as educators, they teach movement curriculums in Albuquerque's juvenile justice facilities.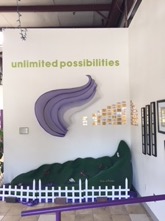 I have been working on research projects involving the M3 curriculum as well as organizing and compiling national, state, and county juvenile justice data. I have also been working on outreach projects for an Arts and Juvenile Justice Convening happening in August and hosted by Keshet.
In addition to this office work, I have been able to do something that I really love: teach dance.
Keshet is in Summer Camp mode right at the moment, and I've taught a modern dance to 14 6- through 8-year-olds. Together, we created a piece that was performed at the end of their camp week. I was told by one of the students that it was "the hardest piece they had to do all week," so I'm glad I was able to give them a challenge. There was much jumping, leaping, rolling, negative space statues, and imagery of monkeys picking fruit—it was really fun to make.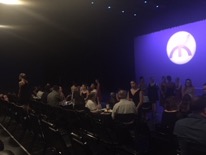 I was also able to teach some All Abilities/Adaptive dance classes in Farmington, N.M. I went on a three-hour excursion through the mountains with another Keshet teacher, and the mix of dance and incredible scenery really made the weekend special.
I ended up at Keshet through a series of serendipitous events, but mainly because I love dance and arts communities that are truly inclusive and active in community-building and social justice. Keshet's M3 program, working in juvenile justice facilities and their practice of dance for all abilities shows, to me, the true potential and impact of the arts. Keshet is also very similar to the organization I danced with in Minneapolis from the age of eight, Young Dance, and so it's very interesting for me to be able to compare and contrast, to learn and to give input.
The biggest challenge:
The totally new location (where's the water??? I mean, yes the Rio Grande is here and the Sandia Mountains are gorgeous but … I miss lakes, my friends). I've never been to Albuquerque, so the elevation, culture, weather, and arts scene adjustment has been pretty … a lot. Not to mention being on my own. It is definitely growing on me. And I would not change anything because being here is just as much a part of my internship with Keshet as being in the office and the studio.
I am learning so much about communication—I am actively trying to up my game in the asking questions department, in feeling confident teaching or instructing, even in having everyday conversations with the staff. Because I'm pushing myself in this way, I'm meeting so many people, creating my own little system of support in this new place.
I love watching the dancers make movement transformations, make discoveries about dance and their bodies and their peers while moving. I'm learning how to combine my interests, passions, and skills. Dance can be a foundation for so many aspects of education and development, which I love and can't wait to explore more of.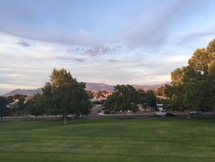 It's a hard summer, but a good summer!