Name: Meagan Kearney
Class Year: 2021
Major: Undecided
Hometown: Fairfax, Va.
Internship Placement: The Global Fund for Children
Job Title: Intern
Location: Washington D.C.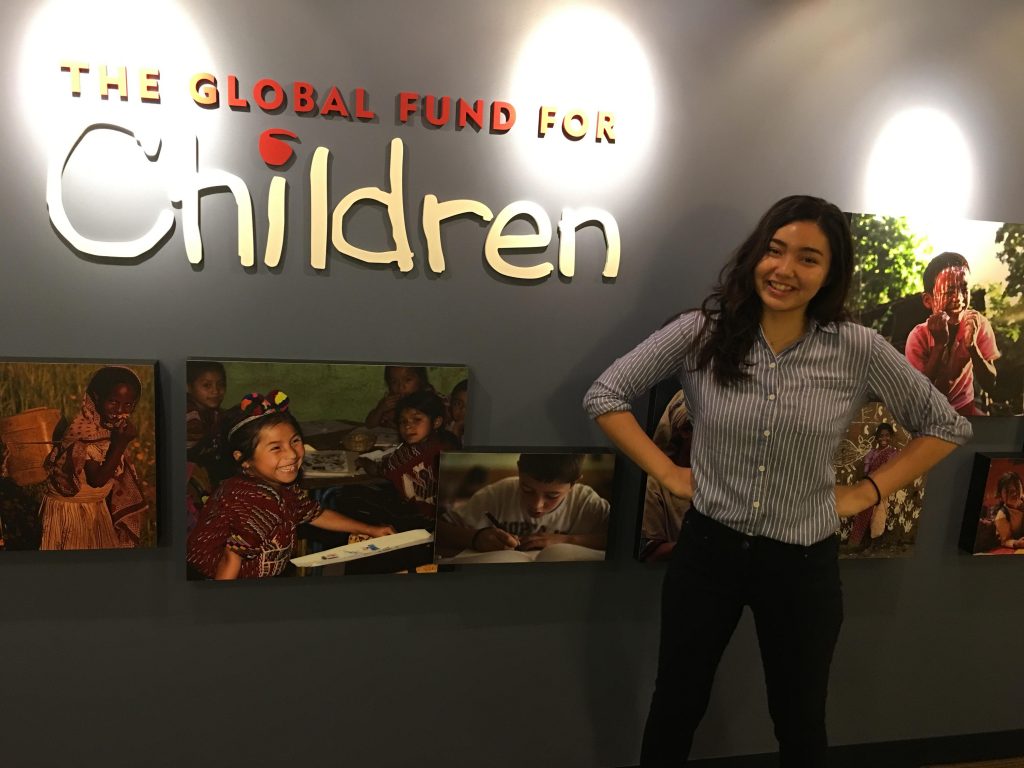 What's happening at your internship?

At The Global Fund for Children (GFC), I have been involved in many of my coworkers' projects and the wider GFC events. This includes facilitating large and small meetings, helping move to a new office, updating GFC's alumni partner files and researching/analyzing Southeast Asia and creating a landscape analysis. Throughout my time at GFC, my coworkers heavily encouraged my participation in meetings. For example, recently GFC held a Theory of Change workshop to help update and streamline their model to have a more focused approach on youth. They would often ask for my opinions and experience.
Why did you apply for this internship?
Throughout my years abroad, I have been lucky to have experienced many diverse cultures and to be able to interact with children. I have volunteered to aid children in Japan, the U.S. and Ghana. While each country has their own distinctive culture, I realized that the needs of a child remains the same. I believe that every child has the right to feel loved, safe and empowered. I knew that LILAC offered wonderful opportunities and when I had read the description for GFC, I immediately knew that I had to apply. Even though I am still undecided in my major, my passion for helping children aligns exactly with GFC's goal. I believe that my experience at GFC has encouraged and inspired me to pursue education.
What has been your favorite part of this internship?
My favorite part of this internship so far was being invited by our Vice President, Corey, to her house for dinner. I went with Ellen, another Bryn Mawr intern, and Lida, a fellow from Armenia. We were able to meet her son and a university student from Brazil who she is hosting for a year. It was a wonderful opportunity to get to know everyone better, and my admiration for my coworkers only increased after hearing their inspiring experiences. After the dinner, I realized that the stigma around being close with coworkers (especially if you're an intern), should never mean that you should distance yourself from them.
What is most rewarding about your internship?
The most rewarding aspect about my internship is knowing that I am helping the GFC team. Even small tasks (such as organizing the supply area) were rewarding because I was able to help my coworkers work more efficiently (even if just a little bit) and with more ease. I particularly enjoyed facilitating their meetings because I was able to organize and facilitate their discussion to more effectively communicate their ideas. I knew that by helping the team, I was also indirectly helping the children that we work with around the world.