Name: Elizabeth McGuire
Class Year: 2020
Major: Anthropology and Classical and Near Eastern Archaeology
Hometown: Veazie, Maine
Internship Placement: Transylvania Bioarchaeology
Job Title: Student
Location: Cluj-Napoca, Romania
What's happening at your internship? 
My field school is currently working in Jucu on a rescue excavation. Although the land is protected, companies are developing the land and the construction is subsequently destroying the burials. This summer, we have been working to recover the remains and associated material culture.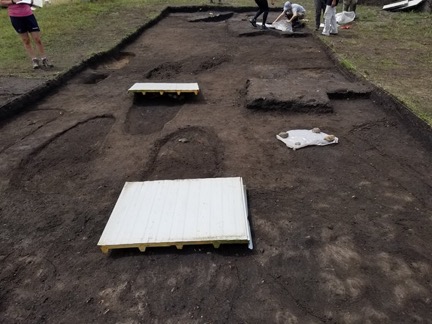 Students participating in this program alternate weeks on site and in lab. At the beginning of the field season, we spent the majority of our time on site doing heavy excavation using mattocks (similar to pick axes) and shovels to get down to the archaeological layer. That proved to be very difficult! After mattocking back a layer, we would use trowels to clean the area and look for signs of grave cuts and fill. Once the layer had been identified we began fine excavation using trowels, brushes, and small wooden tools to carefully uncover the individual buried below.
On lab days, we start with lectures on topics ranging from human osteology, archaeological theory, and paleopathology. Students taking part in this program have varying levels of experience and are at different points in their education, so lectures are crucial at getting everyone on the same page. As the youngest and least experienced student here, I definitely appreciate them! After lecture, we spend time in the lab applying what we have learned, including identifying pathology and determining age and sex of fragmented skeletal remains.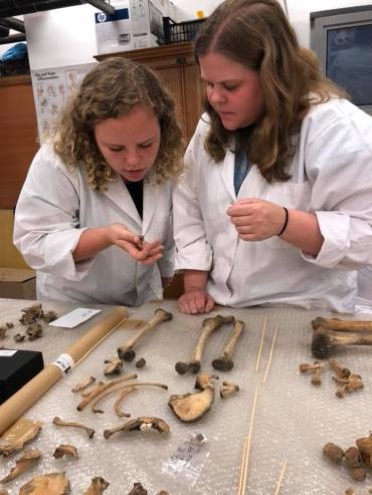 Why did you apply for this internship?
After taking Professor VanSickle's bioarchaeology class last year, I discovered my interest in biological anthropology and how it relates to archaeology. It was important to me that I spent some time this summer becoming more familiar with the discipline in order to make more informed decisions about graduate school. As a Classical and Near Eastern Archaeology major, I have taken a lot of classes that focus on material culture, so it has been interesting to study the primary sources that inform our understanding of the past—the people themselves. There is a lot that we can learn from them!
This program has given me exactly what I was looking for—proper field training, a crash course in human osteology, and experience handling and analyzing fragmentary remains. Although it is difficult to identify bone fragments first, it is important to practice doing so. More often than not, fragments are recovered rather than perfectly preserved bone. It has also been great to talk to professionals in this program about how they chose their areas of focus.
Learn more about Bryn Mawr's Classical and Near Eastern Archaeology Department.
Living in a new city? What has that experience been like for you?
Living in Cluj has been amazing! The program accommodations are about a 25-30 minute walk to the main square—the city center.  I have been enjoying trying out different coffee shops with some new friends before lecture on lab days. We recently discovered iced lavender lattes and have been hooked ever since!
There has been a city sponsored event every weekend we have been here, including Jazz in the Park, the Street Food Festival, and most recently Electric Castle.
The program also takes us on a short field trip throughout Transylvania, highlights including Brasov, Sibiu, and of course, Sigisoara, the birthplace of Dracula.
Can you talk about the skills you are learning and why they are important to you?
Learning objectives of this program include becoming familiar with methods of skeletal analysis and assessing their strengths and weaknesses, identifying and recording pathological conditions, and practicing proper methods of excavation. Before coming to this field school, I had limited experience with archaeological excavations and no experience working with fragmented bone. This has been an incredible experience overall! I have learned so much over the past five weeks and I am looking forward to applying these skills in my praxis next semester.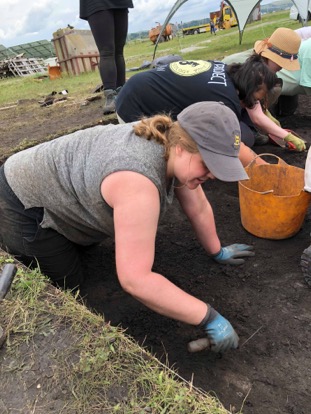 Another important aspect of this program have been our discussions about bioarchaeological theory and ethical considerations. Although we can learn a lot from the human skeleton, there are limitations to our methods. We have to be careful about making assumptions about individuals past activities and lifestyles because we should not be giving them new identities. I think one of the most important things that I will take away from this experience is knowing what we can learn from archaeological remains and what we cannot. That knowledge is going to help me critically approach bioarchaeological research and literature in the future.